This year, the Tour de France is coming to the town of Mourenx (at the foot of the Pyrenees) on July 16th.  The local council has organised a number of events to support this major cycling event, including an exhibition that sports a two-wheeled theme.  To mark this occasion, Toray Carbon Fibers Europe will exhibit a selection of its carbon fiber range, produced only a few miles away from the start of the Tour de France Stage.  The display will also include some of the world's lightest carbon fiber bicycle frames made by Toray Carbon Fiber Europe's customer, Time Sport.
Torayca® Carbon Fiber: Unmatched Lightness and Resistance
The exhibition will feature Time Sport's Alpe d'Huez 01 model.  Weighing only 890 grammes, this premium bicycle frame is made from carbon fiber manufactured by Toray Carbon Fibers Europe at its plant in South-West France.
To make these high-tech racing bike frames, carbon fiber yarn is first braded into a tubular form.  Through a precisely engineered process, the braids are then placed onto the frame's core and shaped in several layers to form the finished product.
Due to its unique properties, carbon fiber is used by bicycle manufacturers to design top-of-the-range city, mountain or racing bikes.  The use of this cutting-edge material improves aerodynamic performance, enabling an increase in top speed.  Carbon fiber offers cyclists a lightweight yet robust frame that is resistant to shocks and corrosion.  It is for these reasons that carbon fiber is also used in Formula 1 and in space expeditions.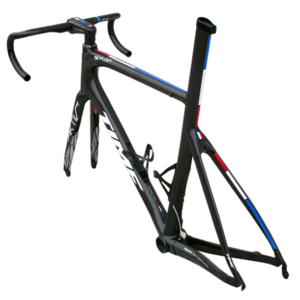 Toray : Performance on Demand
For Toray Carbon Fibers Europe, cycling is an established and important niche market that requires high standards of performance from its materials.  In addition to Time Sport, the Toray Group also supplies other leading bicycle manufacturers, such as Pinarello, Campagnolo and Giant that partner many of the teams competing on the Tour de France.